Sam Ray's Bear Paw Outfitters

Trophy Hunts for Black Bear and Mountain  LIon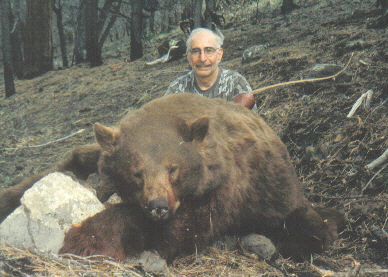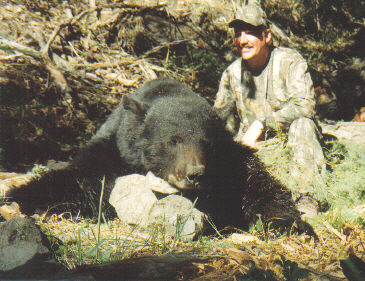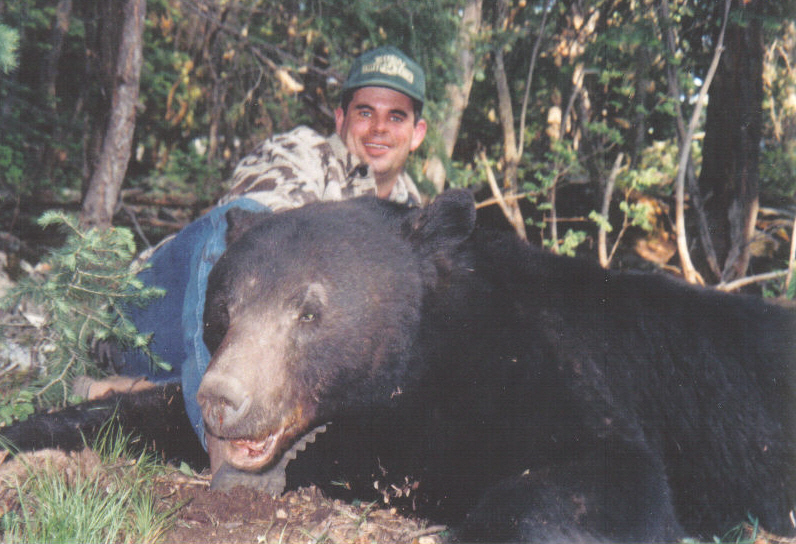 Bill from TX is correct to be happy about taking this huge black bear, which easily made Boone & Crockett with a score of 21 and 14/16!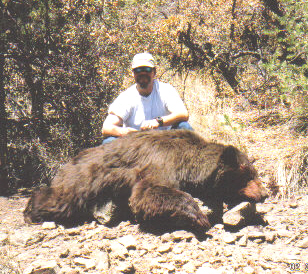 Dan from TX took this long-haired 425 lb boar in the spring!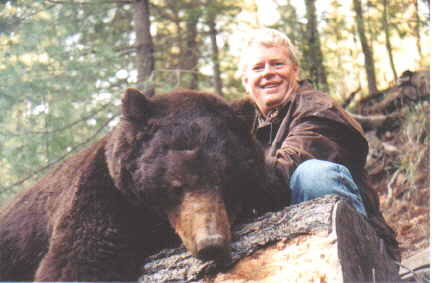 Randy of OK didn't mind paying the trophy fee for this great record book boar!  Not one bit!

Rick from OK wasn't dreaming when he took this  500+ lb  bear.

Joel of NJ with a beautiful light colored Pope & Young bear

Richard of MO took this giant  21 and 2/16 Boone & Crockett boar

Click button to view more bear photos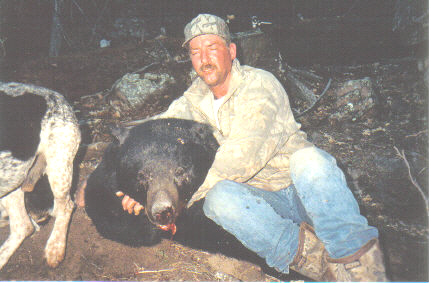 Check out these great Boone and Crockett class  bears! 
Click Here.
Prices subject to change without notice.

THANK YOU BEAR HUNTERS!!!

Whether you hunted once or lots of times with us, or even if you just considered it, we thank you.   We will no longer be offering bear or lion hunts on the WMAT.  Many factors are involved here.  The re-introduction of mexican gray wolves has basically crippled our ability to hunt with hounds.  The wolves are also decimating the tribes elk, deer and cattle herds.

While baits have been a fine tool for bear hunting with dogs in the past, limitations on bait have lured more and more wolves into bait sights, reducing the amount of bears tremendously on our baits.  If we can't run with the dogs and we can't bait effectively, there is no need to take your money. 

Our business was built on hard work, integrity--and your success as hunters.  This is no longer possible for most hunters on the WMAT.   We are moving  on.  Sam has been hunting and raising his hounds for over 30 years.  He planned to continue on indefinitely.

But sometimes God has other plans for us.  Sam is fine and healthy, just feeling he needs to go on to where  God is calling him.  He plans to ranch full time and do some elk, deer and antelope hunting on the side.


Once again, thank you for your past business, we really appreciate it.